HomeReady Mortgage
Fannie Mae created HomeReady® mortgage, an enhanced affordable loan designed to meet the diverse financial and familial needs of responsible, creditworthy buyers.
Watch to Learn More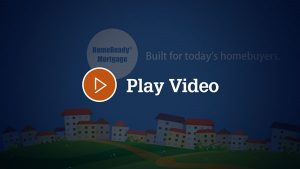 Know the Features & Flexibilities
HomeReady mortgage addresses common financial challenges and offers expanded eligibility guidelines, such as:
Offering a 3% down payment option. First-time and repeat homebuyers can purchase a home with a down payment as low as 3% of the purchase price.
Homeownership Education Requirement
HomeReady mortgage has a homeownership education requirement to help buyers prepare for the responsibilities of buying and owning a home. Buyers can complete an online homeownership course offered by Framework® to fulfill the requirement. One-on-one homeownership advising (i.e., through a HUD-approved counseling agency) may also be an option for buyers who could benefit from personalized assistance. If you seek one-on-one advising, speak with your broker or Lender beforehand to confirm that you'll meet the HomeReady mortgage education requirement.
Get Started
For more details and to see if you qualify for a HomeReady Mortgage, give us a call. We may have other affordable financing options for you to consider as well.